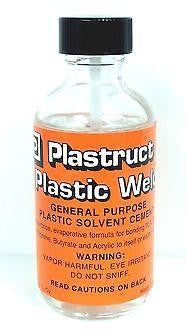 Plastruct PLS 00002 Plastic Weld Liquid Cement 2 oz Bottle
Plastruct Plastic Weld 2 fl oz
General Purpose Plastic Solvent Cement
Multi-purpose, evaporative formula for bonding Plastruct ABS, Styrene, Butyrate and Acrylic to itself or each other.
Directions:
For best results, hold parts firmly together.   Apply cement sparingly to the joint.   Hold for 15 to 20 seconds. 
Cement will spread by capillary action for the entire length of the joint.   Bond sets in minutes.   Excess sovent 
evaporates quickly.   Allow overnight to cure.   If brush stiffens when dry, soak in Plast Weld.
Contains Methyl Ethyl Ketone (MEK) 
---
We Also Recommend