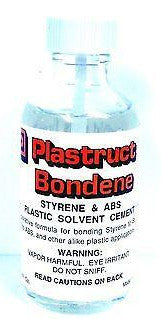 Plastruct PLS 00003 Bondene Styrene & ABS Plastic Solvent Cement 2 oz Bottle
Evaporative formula for bonding Styrene to Styrene, ABS to ABS, and other alike plastic applications.
Directions:
For best results, hold parts firmly together.   Apply Cement sparingly to the joint.   Hold for 5-10 seconds.  
Cement will spread by capillary action the entire length of the joint.   Bond sets in seconds.   Excess solvent evaporates quickly.   Allow 30 minutes to cure.
Contains Dichloromethane.
---
We Also Recommend