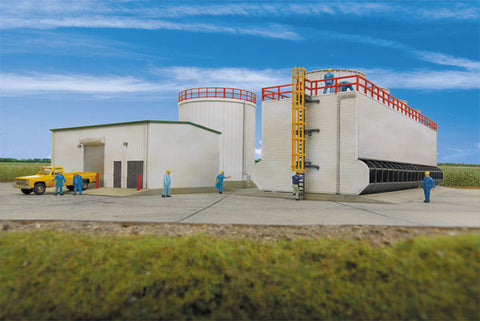 HO Scale Walthers Cornerstone 933-2979 North American Ethanol Cooling Tower Facility
Ethanol is big business--especially for railroads. Long trains of identical tank cars and huge strings of covered hoppers moving grain and ethanol byproducts have become an important part of the railroad landscape. Since the late 1980s and early 1990s, ethanol has more than DOUBLED the traffic hauled by some railroads!
Cornerstone North American Ethanol series kits, Walthers freight cars and locomotives make it easy to add this rail-dependent industry to your model railroad.
Ethanol traffic touches almost every corner of the North American rail network--from the vast cornfields and wheat fields of the midwest to busy petroleum terminals in large cities. It should touch your post-1980s model railroad too!
* Cooling Tower * Water Storage Tank * Maintenance Shed * Ideal for Use at Other Industries
Cool water is the key to temperature regulation during ethanol production and it's needed in enormous quantities. Hot water from other parts of the process is circulated into the cooling tower where it's cooled for reuse. Rooftop fans draw cool air inside the tower where it passes over falling water. The cooling tower maximizes the water's exposure to air for cooling through evaporation. Water lost through evaporation is replenished during the process.
The Cooling Tower kit includes a cooling tower with four simulated rooftop circulation fans, a water storage tank and a maintenance/pump/monitoring shed. While this kit is patterned after facility at an ethanol processing plant, similar cooling towers are used at power plants, steel mills, refineries, modern food processors and chemical processing plants.
Cooling Tower: 11-15/16 x 3-1/16 x 3-1/2" 30.3 x 7.8 x 8.9cm Tank: 4-5/16" Diameter x 4-1/2" 11cm Diameter x 11.4cm Shed: 5-1/2 x 3-15/16 x 2-1/2" 14 x 10 x 6.4cm