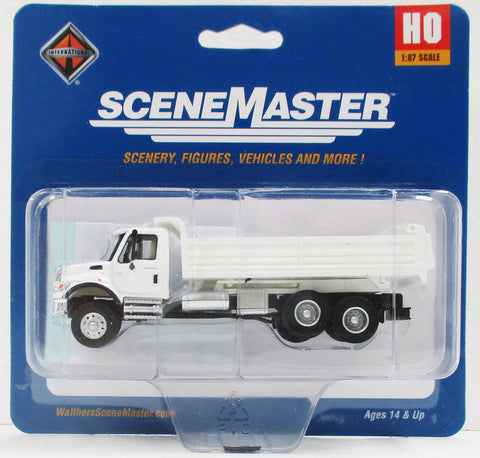 HO Scale Walthers SceneMaster 949-11660 International 7600 MOW 3 Axle Dump Truck
OEM in Package
This Walthers SceneMaster International 7600 3-Axle Heavy-Duty Dump Truck is a model typical of today's heavy trucks operated by railroads, gas, water and power utilities, as well as city, county and state highway departments.
 
Also known as the WorkStar, this series of technologically sophisticated, heavy-duty trucks is powered by an 11-liter (390 horsepower) or 13-liter (475 horsepower) diesel engine, and can be built on a single- or dual-axle platform. The combination of power and versatility make it a favorite with railroad, construction, mining and utility companies. 
 
This detailed truck includes colorful railroad logo decals sized to fit for quick conversion to maintenance-of-way service including BNSF, CN, ATSF, BN, CP Rail, CNW(TM), NS, Chessie, DRGW(TM), MILW, KCS, CR, CSX, SOU, SP(TM) and UP(R). Industries, municipalities and construction contractors are also typical users of the vehicles like the International 7600 3-Axle Heavy-Duty Dump Truck, so it will look right at home on your modern-era layout. 
 

Fully assembled and painted white - typical of today's heavy trucks operated by railroads, gas, water and power utilities, as well as city, county and state highway departments

Colorful railroad logo decals sized to fit for quick conversion to maintenance-of-way service including BNSF, CN, ATSF, BN, CP, CNW(TM), NS, Chessie, DRGW(TM), MILW, KCS, CR, CSX, SOU, SP(TM) and UP(R)

Licensed replica of popular International trucks

Must-have for HO model railroads

Perfect size for collectors

Positionable parts on many models

Fully assembled and painted

Die-cast metal and plastic parts
---
We Also Recommend