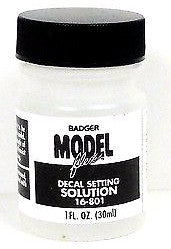 Badger Model Flex 16-801 Decal Setting Solution 1 oz Bottle
This is a 1 oz (30ml) Plastic jar  from Model Flex
Manufactured by Badger Air Brush Co.
Badger Model Flex Decal Setting Solution Softens decal film, allowing it to stretch over details for best
appearance.
Prevents air bubbles and results in an invisible carrier film,
reducing silvering.
Plastic bottle with plastic screw-on lid.
Can be used to remove decals also.
Decal Setting Solution 16-801

Directions:   Brush Setting Solution on models where decal is to be applied, then dip decal in
water and slide off paper backing onto model.  Carefully brush more Setting Solution on top
of decal.   Wait a could of minutes for decal to soften, then press decal down with a piece
of moist paper towel.   Repeat pressing down with paper towel if necessary.

To Remove decals:   Brush Setting Solution on decal to be removed, keep applying until decal
loosens, then rub off or tilt edge of decal with the tip of a hobby knife and peel off if able.
---
We Also Recommend