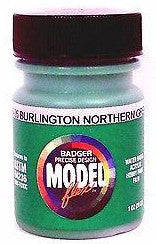 Badger Model Flex 16-26 BN Burlington Northern Green 1 oz Acrylic Paint Bottle
This is a 1 oz (30ml) Plastic jar of Acrylic Paint from Model Flex
Manufactured by Badger Airbrush Company
Badger Model Flex Paint Features-
Fine coat coverage, Fine (.5 to 1 mil. thick) coat coverage
Fast drying
Primer not required (recommended with lighter colors)
177 authentic colors Accurate color replication
3 clear finishes (flat, gloss, satin)
Excellent adhesion to plastics, metals, wood, resins, and other substrates
Superior color retention, Colofast, High Adesion, Superior Flexibility
Easy to apply in conventional methods
Airbrush read & Brushable
Easy clean up with MODELflex cleaner
Safe to use, Non-Carcinogenic, Non-Flammable
User friendly, No Foul Odor
Environmentally friendly, Non-Toxix, Non-Irritant
Long shelf life
LIFETIME WARRANTY  (applies to full unused or unopened bottles only)
Paint Preparation


MODELflex is bottled in jars that fit directly on all Badger Air-Brushes.   This allows you to 

attach the paint to the airbrush without any messy pouring.


Conforms to ASTM D4236 Non-Toxic
Water based Acrylic Hobby Paint Film

Stir & Shake well.   Thouroughly clean surface to be painted.   Primers not necessary for dark colors.   
Primer recommended prior to brush painting.   Apply in conventional manner.   Close cap after use.   
Dries to touch in 3-5 minutes using artificial heat source or 12-15 minutes at room temperature.  
Decal, mask a repaint in 15 minutes if heat dried.   2 hours at room temperature.   Clean up with Model-flex cleaner.
---
We Also Recommend