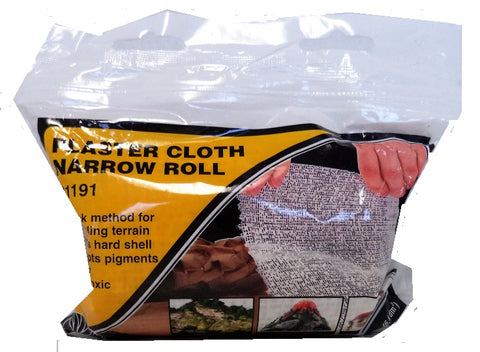 Woodland Scenics C1191 Sub Terrain System Plaster Cloth Narrow Roll 4" x 15'
Plaster Cloth is the easy, convenient method for modeling lightweight land contours and terrain base. the plaster-coated cloth creates a durable hard shell, designed to accept Earth Colors Liquid Pigment, paints, plaster castings and landscape materials easily and with realistic results. Use to fill gaps around rocks, tunnels, in terrain gaps and seams and to blend terrain features.
Plaster Cloth - the original Cloth, packaged in a resealable bag.
Subterrain Lightweight Layout System®
Woodland Scenics has simplified the process. Build a layout fast and easy. 
SubTerrain is the most innovative foam system for building model train layouts. 
The revolutionary, high-density foam components of the SubTerrain System 
are extremely lightweight and easy to use. 
They require no expensive power tools, there is no dusty mess, 
no complicated calculations required and most importantly, 
no experience is necessary.
---
We Also Recommend